Bus
2011 Years 3 Month 14 日 (Mon) 19:23 |
Bus
|
(Coin path, no coin path)
Tokachi a bus, the more money will be for customers aged 65 or over living in the city of Obihiro, you can use the bus, usable range is selling the coin path and no path Coin limited Obihiro
From age 65 to 89 years, 90 years or older Coin path can buy no coin path.
 
How to use
If you bring when boarding a bus to buy one coin path, you can use Coin (¥ 100) per single ride.
It can also register in the path of one couple, the couple made available in such cases, bringing the discount pass is required.
You can take advantage of 100 yen per person if you ride on the same bus with his wife.
No coin path is available free of charge if you bring when boarding the bus.
Cash payment at the time of use is only a bus ticket elderly.
 
Denomination and price path
| The Ailuropoda su trade name | Qualifying age | Amount per month |
| --- | --- | --- |
| Coin Path 65 | 65 years to 69 years | March 1 month,500 yen / 1 |
| Coin path 70 | 70 years to 79 years | February 1st month,500 yen / 1 |
| Coin Path 80 | Age 80 to 89 years | February 1st month,500 yen / 1 |
| Non-coin path 90 | 90 years of age or older | February 1st month,500 yen / 1 |
 
How to buy
Release is authorized Basutaminari Obihiro Station.

At the time of purchase (such as a health insurance card) is required for proof of age and shall be able to address · (3cm 4cm × horizontal vertical) one one photo ID.

Might range は Bands the Hiro city global です on.

Disability discount, refund of the path is not done.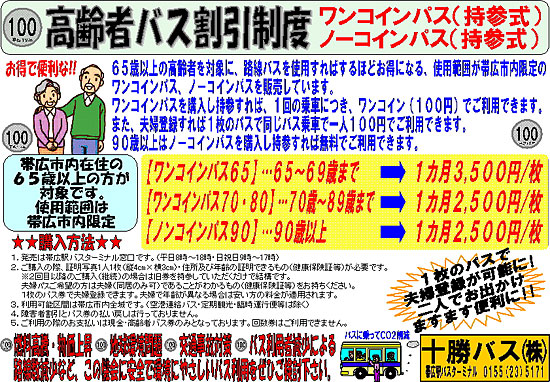 The fuel high Teng material price rises, global environmental problems, traffic 対 strategy, the ba su User reducing ni yo ru route number to reduce な ど, opportunities for こ の に environment に や さ shi ku, security na ba su utilize を ぜ ひ ご 検 discuss く だ さ い.